My name is Miss Barrett and I am the Year 1 class teacher for this academic year. We are very lucky to have Miss Evans as our class teaching assistant! We looking forward to getting to know your children over the course of the year. We have an exciting and engaging journey ahead of us!
Below are some key dates for you!
- Homework will be handed out on a Friday and collected on the following Wednesday.
- Year 1 will have PE on a Wednesday and a Friday.
- Your child will change their books once a week. Their allocated day will be written in your child's reading record book. Please ensure your child reads every night and that their reading record is signed.
Please keep an eye on this page for more information about what we have been up to and to have a sneak peek at any photos we have taken along our learning journey.
Please also find below the end of year expectations for Year 1.
LANDSCAPE SKETCHES
This term in art Year 1 are looking at the works of George Seurat. George Seurat was a famous landscape artist who used the technique of Pointillism.
We were very lucky this week to have some beautiful weather. The children in Year 1 took advantage of this and took their learning outside. The children looked at the landscapes around them and they used pencils to sketch the landscape. The children worked really hard to focus on all the detail around them. Keep checking out our page for more of the children's artwork.
HUMAN BODY
This term in science the children have been learning all about the human body. They have looked at different body parts and what each of them do. During Science Day the children rotated around a variety of activities looking at our similarities and differences, looking at senses and which body part we use for each sense. The children have been really interested in the human skeleton. They have created split pin skeletons, created pictures of skeletons on the computer and labelled them and even had a go at sketching skeletons in art.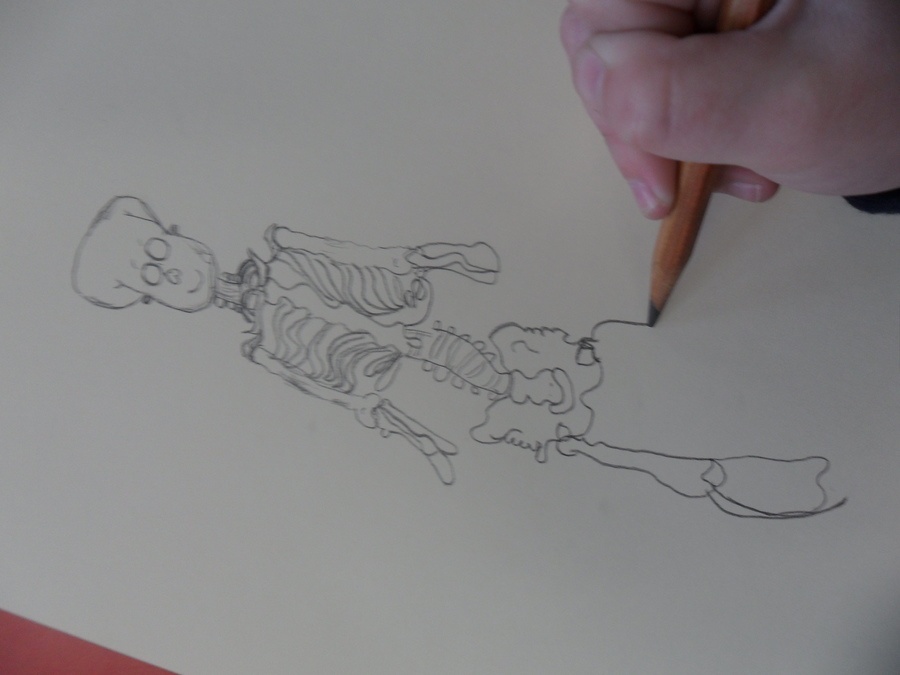 INSTRUCTIONS
The children have been doing lots of work on instructions. They have looked at the key features of instructions, they have looked at bossy verbs and even had a go at following some instructions to make things.
The children worked really hard to create their very own jam sandwich. Once they had created their sandwich they wrote instructions on how to make one. The children loved making their sandwiches, although I do think they had more fun eating them!
WORLD BOOK DAY!
The children had a fabulous day dressing up as their favourite book characters. They all looked fabulous. We had a great day doing lots of fun activities. The children created book marks, wrote book reviews, acted out their stories using props and even read to each other
FRACTIONS PIZZA
The children have been working hard in math this week, They have been looking at fractions. The children in Year One know that if you cut something in 1/2 you will get two equal parts and if you cut something into quarters you will get four equal parts. They children worked hard to cut out pizza bases and pizza toppings to create their very own pizza. Under their pizza they had to write the fraction of each of the toppings.
MEASURING
Today the children asked if they could have a go at measuring each other just like they did with their monsters. The children had lots of fun measuring each other. They even had a go at predicting who would be the tallest.
MEASUREMENT MONSTERS
This term we have been looking at measuring. We have had lots of fun measuring using cubes, chains, lego and even centimetres. The children had lots of fun creating their very own monster.
Once they had created their monsters. They used their measuring skills to measure their monster.
Fantastic monsters and measuring! Well done!
SHAPE POEMS
Today the children in Year 1 had a go at writing a shape poem in the shape of a penguin. The children spent some time thinking of lots of adjectives about penguins and about lots of things penguins like to do. We worked together to put some of their words in to sentences. The children then had a go at writing their very own poem.
The children also painted and decorated their penguin.
Fantastic work Year 1
FAMILIES
This term in religion we have been looking at families. We have done lots of work about how we are part of many different families. We have also looked at how we as a class are a family. The children decorated a cardboard cut out to look like themselves in their school uniform. We then attached the children all together in a circle. The children sat around their cut outs in a circle.
We discussed how we are a family and what we can do to show we love and care for each other. The children then had some time to reflect on what was said and say a little prayer for someone in their family.
Beautiful work Year 1. Well Done.
STORY MAPPING
The children had a fabulous time working together to create a story map of the story ' The Perfect Present'. The children had listened to the story a number of times, they had the opportunity to role play the story and sequence pictures. They then had the opportunity to create a story map for the story. They worked hard together to correctly sequence the events in the story. They had to tell the person next to them which part of the story they were doing so that the story would follow on.
NUMBER BOND BISCUITS
The children in Year 1 have been learning their number bonds to 10. We had so much fun making biscuits to show different ways to make 10. We had to count the smarties to make sure we had ten and then put them on our biscuits to show which two numbers go together to make 10.
We had lots of fun eating our maths work!
The children love listening to the number bonds are pairs of friends song to help them remember their number bonds. I have attached a link to the song just in case you wanted to listen to it at home.