March 2018
Our chaplains have been delivering Lenten liturgies to our KS1 children. The children came in during lunchtimes to pray and listen to scripture. What a wonderful way to spend some time during Lent.
Thank-you to all the chaplains for giving up their time.
November 2017
This week the chaplaincy team received training on Liturgy. Maria Hall came into school to deliver the training. We learned all about liturgical colours, creating focal points and writing bidding prayers. We are now ready to deliver liturgy with all our classes in school. We had a great afternoon and thank Maria for such an inspiring afternoon.
If you want to find out more about the Chaplaincy Team at St. Peter's and all the work they have done so far, take a look at the video we made!
This week, a few members of our Chaplaincy Team attended mass at Salford Cathedral which was led by Bishop John. The mass celebrated all of the fundraising which took place in Lent to raise funds for the Caritas Appeal.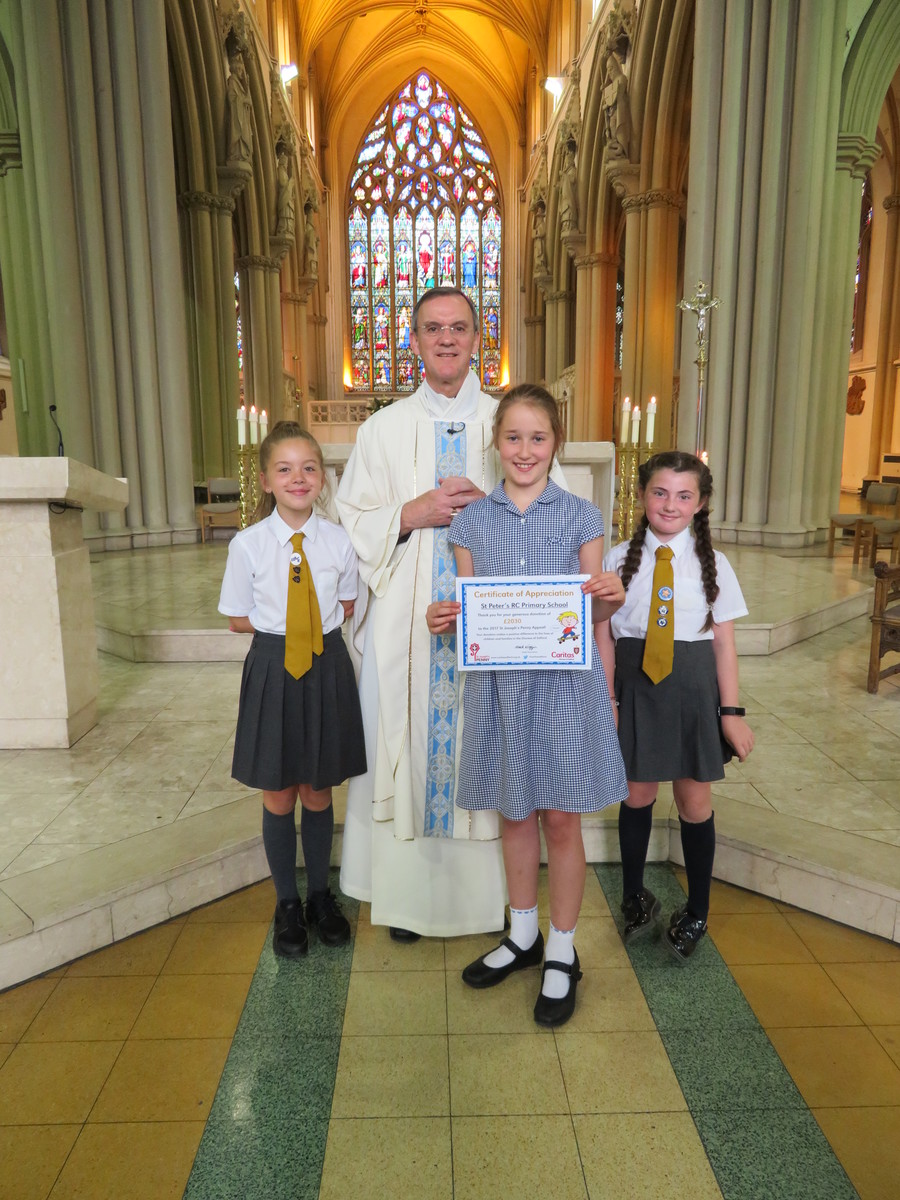 March 2016
As part of our Holy Week reflections, the children in Key Stage Two visited church to observe the Stations of the Cross.
Fr. Kieren spoke about the importance of each station and the Year Five members of the Chaplaincy Team led us in prayer and reflection.
Today the Year Five members of our Chaplaincy Team visited Sacred Heart R.C. Primary in Bolton, to visit Mrs Byrne and the school's G.I.F.T. Team.
We had a great day, thinking about our role as stewards of God's earth and how we can develop our understanding of this within school.
Next term, Sacred Heart's G.I.F.T. Team will visit us to learn more about the journey of our own Chaplaincy Team in St. Peter's.
October 2015
Congratulations to the newly appointed members of our Chaplaincy Team!
Over the next term they will be trained and supported by our Year Six Chaplains and begin to support the delivery of prayer and worship in our school, as well as helping other children who are facing difficulties.
As part of our Holy Week activities, the Chaplaincy Team ran lunchtime clubs for Key Stage One and Two. They prepared resources and videos for children to watch on the Easter story, asked questions to check their understanding and awarded house points for some great drawings!
Meditation Observations
Two of our chaplains, Millie and Gabriel, accompanied teachers on a visit to Guardian Angels RC Primary in Bury to observe meditation sessions in Year Three and Year Six. They watched the classes meditating and brought away a lot of ideas to use at St Peter's. Millie and Gabriel have already shared their thoughts with the rest of the Chaplaincy Team and are looking at ways to support the development of meditation in their partner classes this year.
Introducing our Chaplaincy Team
On Thursday 9th October 2014, the children chosen as our first group of pupil chaplains attended training at Salford Diocese.
The training was led by Sr. Judith Russi who came into school at the start of the year to help us work towards our new school mission statement.
The children had the chance to meet with other school chaplains, share ideas and create an action plan for developing their work within school.
In the afternoon we attended a commissioning service at Salford Cathedral where the team received blessings for the important job they have to do.
Have a look below at some of our memories of the day!