Home Learning
COMPETITION TIME- EASTER GARDEN
Can you make an Easter garden this week at home?
Do not go to the shops but use objects you have already in your house or garden. Try to be creative and create a garden which shows what Easter means to you.
Take a photo of your garden and send it to Mrs Clinch by email-Year3-4@stpetersrc.rochdale.sch.uk.
Please send your photos by Friday 10th April
I will post the winning gardens on the website on Easter Sunday!
Work has been provided for your child to complete in the event of a school closure.
If your child was absent when the home learning packs were handed out please see the links below.
All children have received a red card in their packs. This red card contains your childs logins for TTRockstars/ Numbots, Spelling Shed and Purple Mash, please ensure that your child is accessing all these sites.
Questions about the Coronavirus book
The Grufallo illustrator Axel Scheffler has teamed up with experts to create a free book to explain what the Coronavirus is for children. It aims to answer questions for children between five to nine year olds and help them to understand what they are going through right now.
PHONICS
Below I have attached phonics powerpoints for all phases. The powerpoints are quite big as there is a session for each sound. If you have any problems please contact me - year1@stpetersrc.rochdale.sch.uk
Covid-19 TIME CAPSULE
We are all living through history. Here is something to use to remember it. We can create a keepsake of this time for us to look back on. Print it off and fill it in :)
SCAVENGER HUNTS
Can you have a go at one of the Scavenger hunts?
Send pictures to year1@stpetersrc.rochdale.sch.uk if you manage to complete of them!
Happy hunting!
PURPLE MASH
Purple Mash is a fantastic online learning resource. Once your child has logged in they can explore the number of activities and games. At the top of the page is an alerts icon this icon will have a number at the side. If you click on this there will be a number of activities for your child to access set by the class teacher. The class teacher will be able to see, mark and send a comment back to your child once they have completed a task. Tasks will be added over the next few weeks.
EPIC
Epic is a great online reading resource.
Year One love to read and sadly due to many public buildings beginning to shut children may not have access to many new texts. I have signed up the children to Epic. It is crucial that over the next few weeks your child reads as much as possible to ensure the love of reading that they have developed continues to flourish.
Below are instructions on how to access your child's account.
To access on a Laptop or Chrome book
Have your students open up their web browser and
2
Log in with your class code
3
Select their name your child's pin is the same 2 digit password they have for purple mash but it is repeated. So if your child's purple mash password is 34 your child's Epic pin will be 3434.
To access on ios or android
After launching the Epic app, ask students to:
1
Select "Have an account? Log In" then click "Students & Educators"
2
Log in with your class code
3
Select their name your child's pin is the same 2 digit password they have for purple mash but it is repeated. So if your child's purple mash password is 34 your child's Epic pin will be 3434.
FREE SUBSCRIPTIONS
A number of online companies are offering free subscriptions for parents I will add details of these below.
Please keep checking out our class page for more activities, links and challenges to do at home.
The Secretary of State for Education announced on Wednesday 18th March that the 2019/20 national curriculum assessments will not take place due to the COVID-19 pandemic, this includes the Year 1 Phonics Screening Check.
Most importantly please stay safe, look after each other and enjoy learning together at home.
Thank you again for your continued support, it is very much appreciated.
Miss Barrett and Mrs Millward. :)
FREE SUBSCRIPTION SITES -
TWINKL - Google twinkl and sing up using your email address and create your own password. Use the offer code - UKTWINKLHELPS
PHONICS PLAY - USERNAME - march20 PASSWORD - home
BBC BITESIZE
https://www.bbc.co.uk/bitesize
Beginning Monday 20 April, BBC Bitesize will publish daily online lessons for all ages. We'll also have a new dedicated TV channel full of learning content, podcasts on BBC Sounds and loads of educational video on iPlayer
MATHS FACTOR!
Maths factor is an online maths resource for children 4- 12 years old. The resource is currently free due to Covid 19. Register for free and your child will have access to daily maths sessions and games.
Home Learning Gallery
Please keep sending pictures of what you have been up to at home and I will continue to add them to the website for your friends to see!
Every storm is followed by a rainbow.
It has been so lovely to receive lots of rainbow pictures from you all. I have added them to website to make everyone smile!
Welcome to Year 1
My name is Miss Barrett and I am the Year 1 class teacher for this academic year. We are very lucky to have Mrs Millward as our class teaching assistant! We are looking forward to getting to know your children over the course of the year. We have an exciting and engaging journey ahead of us!
Below are some key dates for you!
Homework will be handed out on a Friday and collected on the following Wednesday.
Year 1 will have PE on a Monday and Wednesday
Your child will change their books once a week. Their allocated day will be written in your child's reading record book. Please ensure your child reads every night and that their reading record is signed.
Please keep an eye on this page for more information about what we have been up to and to have a sneak peek at any photos we have taken along our learning journey.
Please also find below the end of year expectations for Year 1.
Outdoor Learning Trip!
The children in year one were a little sad to hear that their class trip to an outdoor learning centre had been cancelled. Year One really do love to get muddy.
The children weren't sad for very long as Miss Barrett and Mrs Millward decided to recreate the school trip on the school field.
The children hopped on a coach set up in class and went on a little journey before arriving at our destination. The children took part in many activities, kite flying, sledging, bug hunting, birdwatching, playing with bubbles, using a giant parachute to play some games.
The children also created a fantastic den, the children worked together as a team to discuss what they wanted it to look like, what each person was going to do and how they were going to do it safely. Miss Barrett and Mrs Millward were both very impressed with what the children created.
The children also enjoyed a lovely picnic sat in the den, we were very lucky as the sun even came out while we were enjoying talking and eating together.
A fantastic time was had by all :)
Some of the children even fell asleep on the coach journey home! :)
Bog Baby Hunt!
This term the children in year one will be focusing on the text 'The Bog Baby' by Jeanne Willis. Today the children went on a Bog Baby Hunt and to their surprise they found their very own Bog Baby. The children brought them inside, gave them a name and made a little bed for them in a mini bucket. The children will now need to take care of their Bog Baby!
World Book Day!
This year our theme for world book day was Bible Stories. The children had the opportunity to come to school dressed as a bible character. All the children looked fabulous and really enjoyed telling each other who they were dressed as. During the day the children took part in a variety of activities, sharing a book with a friend, acting out their favourite stories, making bookmarks and creating some beautiful religious artwork.
Lenten Artwork
Today we worked hard to produce some beautiful art work. We used masking tape to create a cross shape on our paper. We then used oil pastels and blended a selection of colours to create a beautiful image, We removed the masking tape at the end to reveal the cross shape.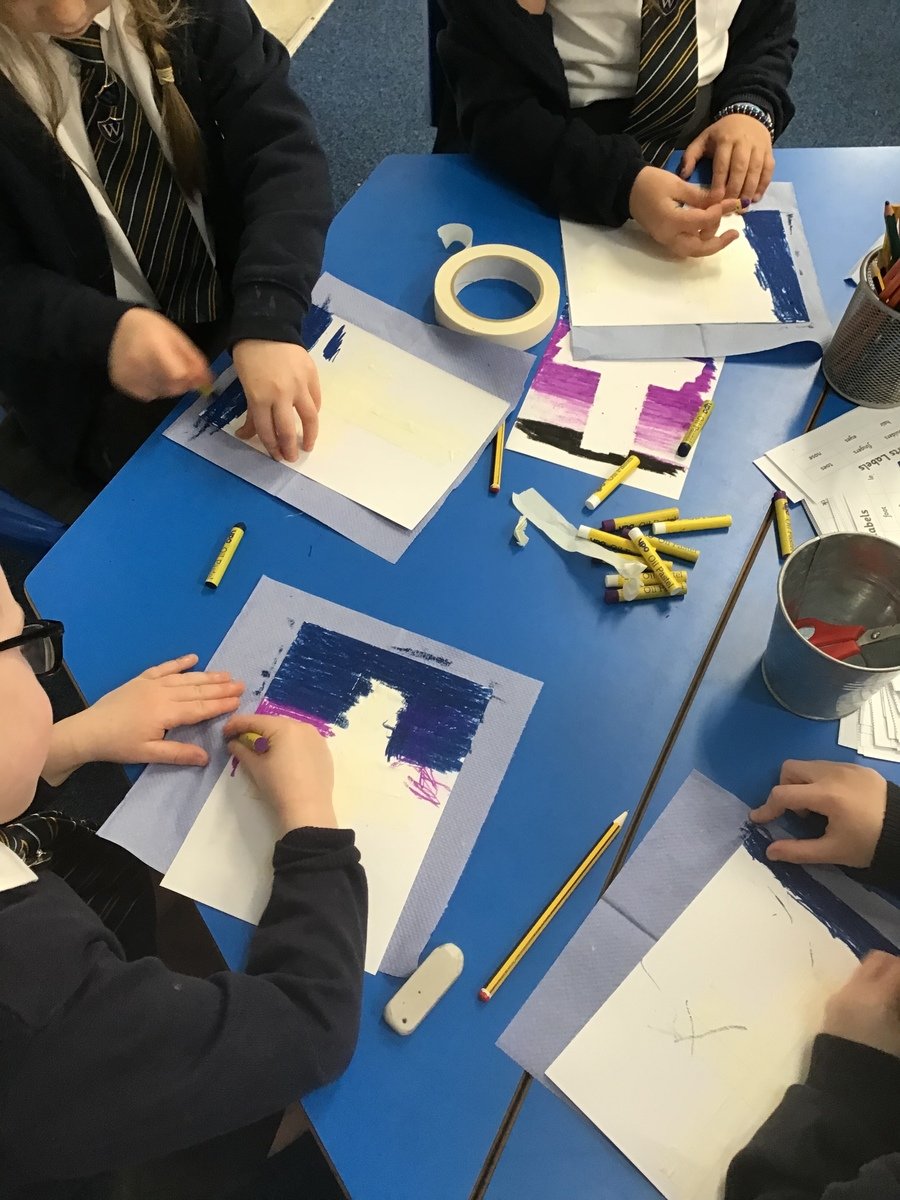 Penguin Measuring
Today we had some visitors in our classroom. A group of penguins. We had a go at ordering the penguins from the shortest to the tallest. We then had a go at estimating how tall each penguin was. After we had estimated the height of each penguin we had a go at using cubes to measure the height of each penguin.
The Tiger Who Came To Tea!
Today we had a great time having our very own Tigers tea party. We designed and made our own sandwiches and baked some yummy cakes using Miss Heapy's special recipe. We played some tiger games and had a special visit from a tiger (We couldn't get a real one so we had the next best thing . . .Miss Barrett dressed up!).
DIPPY ON TOUR
Today we were very lucky to be one of the first schools to go and visit Dippy. We loved seeing Dippy up close and having the opportunity to sketch him.
National Storytelling Week!
This week has been National Storytelling Week. We have loved listening to a different story each day. We really enjoyed it when Miss Barrett read a story to us outside.
Outdoor Learning
We spent some time outside this week. It was very cold but we enjoyed doing a number of different science activities outside.
MUSIC
This week we got out the Boomwhackers and had a go at playing a piece of John Williams music from the film Star Wars. John Williams is the composer for this term. Miss Barrett was so impressed she even let us perform it during her assembly.
We even had a go at using the Boomwhackers to perform Rolling in the deep.
RNLI
This week we were very lucky to receive a visit from Gwyn a volunteer with the RNLI.
Gwyn came into school to teach us all about Grace Darling, he taught us about what she did that was so important, we compared what life was like in 1815 to what life is like now. Gwyn also taught us about the important role of the RNLI. We had the opportunity to try on some of the RNLI uniform.
Gwyn taught us all about water safety and what to do if we get in to difficulty in water. We thought that what he told us was very important and we have made posters to put up around school to show all the children at St Peter's how to stay safe!
Staying safe around water
Stop and Think
Stay Together
FLOAT (like a starfish)
CALL 999 OR 112 OR SHOUT FOR HELP
Lighthouse
We have been working hard to make our very own lighthouses. We have even made circuits so our lighthouses light up!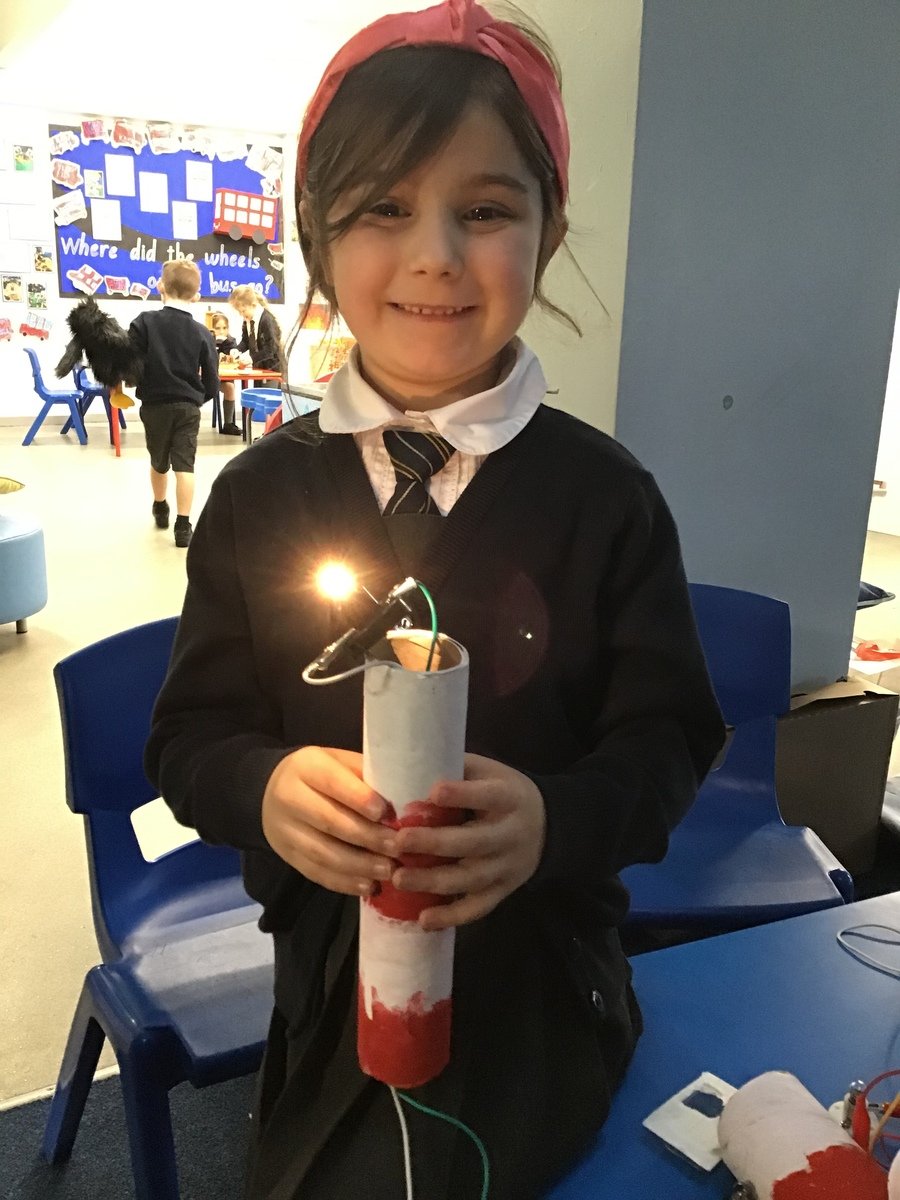 Bird Watching
We love taking some time to sit and bird watch from the classroom. We have spotted so many different types of birds including . . . Parakeets !,
Reading for Pleasure
We love spending time with our class reading birds Topsy and Maggie. We love reading stories to them and every night they tell Miss Barrett about how well we have read. We really do love picking up a book and learning new words.
Outdoor learning!
Today we took telling the time outside. We used hoops, pebbles and sticks to show different o'clock and half past times. Miss Barrett said that because we had worked so hard we could have some more fun bird watching and rolling down the hill.
Colour Mixing!
We have really enjoyed learning how to make different colours.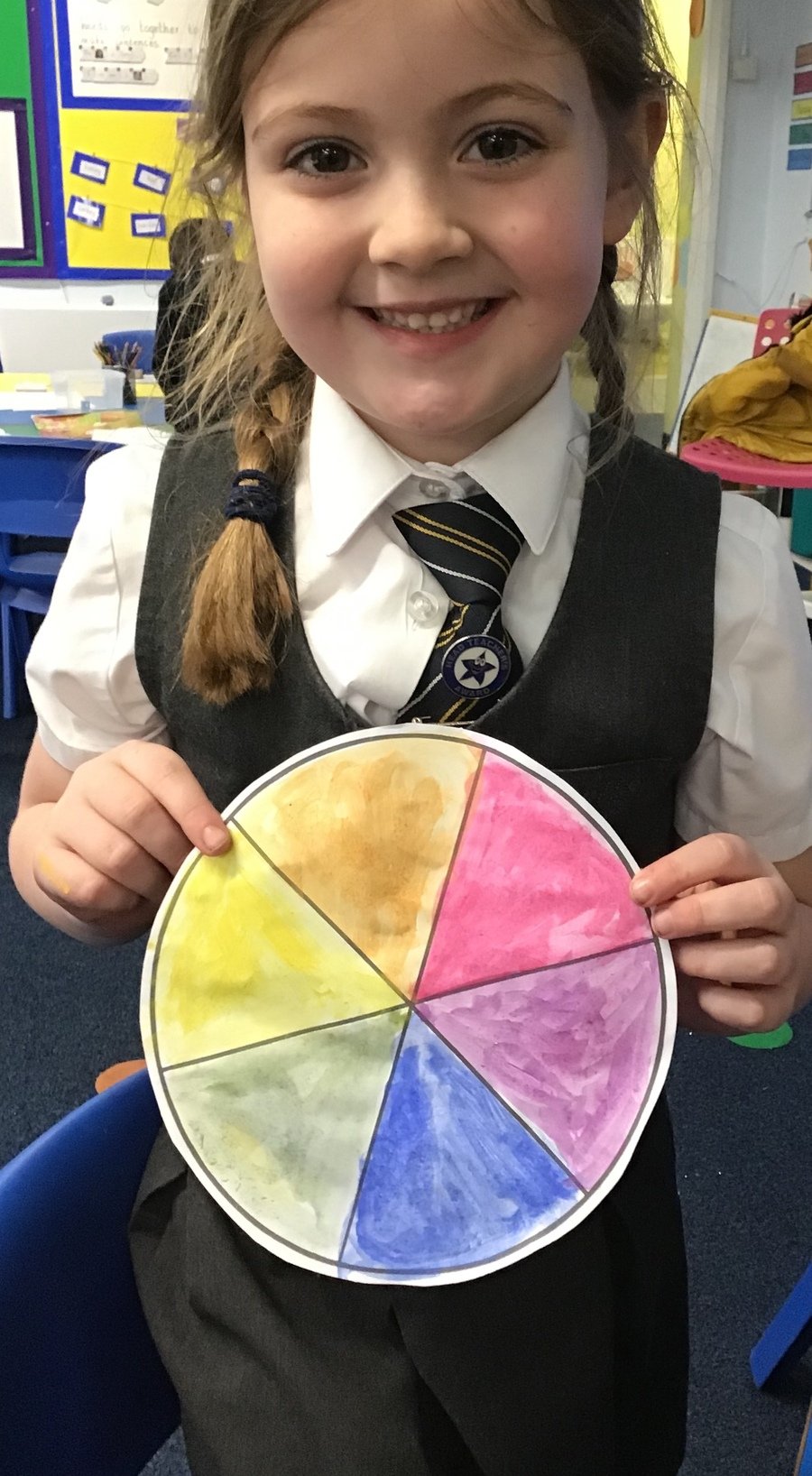 Continuous Provision
This week during our continuous provision time we have been designing and making homes for different animals. Some of us even made a zoo and added two lions. We used our new science learning to feed the lions meat from the class shop.
Premier League Primary Stars
We are very lucky this term to have Graham from Rochdale Football Club come in to school to teach us lots of new football skills. We have been working on being ambitious and not giving up on our goals. Each week some children are selected to receive a being ambitious certificate for not giving up during the session.
Parents Phonics Meeting
THANK YOU so much to all the parents that came to our phonics meeting this morning. We really hope that we helped you with supporting your child with phonics at home.
We have included photos of the resources we had on display this morning for you to see. On the right hand side of this page is a list of apps that would be beneficial for you to download and try at home - we know from the meeting this morning some of you have already done this !
All missed resources will be sent home in the children's school bags.
Thank you once again for your time and continued support
Miss Barrett and Mrs Beaumont
What time is it?
The children have been learning to tell the time. The children have started to look at o'clock times and will move on to half past times next. Miss Barrett is so happy that the children are learning to tell the time as they now know when its 12 o'clock so they don't need to keep asking is it nearly dinner time.. Keep up the excellent work year one!
The children in Year One would like to wish everyone a very merry Christmas and a happy new year!!
Advent
The children have created a beautiful Advent mosaic.
Great Fire of London Dress Up Day!!!!!
Today we had so much fun dressing up and doing lots of activities during our Great Fire of London Day. We made cakes just like the ones that started the fire, wrote with quill and ink, sequenced the events using a story map, Retold the story in lots of ways and performed a song to our families.
THANK YOU!!!!
We would like to say a big thank you to our parents and carers for sorting out costumes for us so we could have fun dressing up and also a big thank you for coming to watch our performance, have a look at our work and sample the bread and cakes we made. We hope you had a great time!
Baking Bread
Today we had a go at making our own bread just like Thomas Farrinor would have done in his bakery in 1666 (except we used an oven). We loved mixing the ingredients, kneading the dough, watching it prove and bake. We loved the smell!
After the bread was baked we really enjoyed eating it. It was yummy!!
Outdoor Learning
Building a Wattle and Daub wall
This week we have been looking at why the fire spread so quickly? We looked at how the houses were made and even had a go at building our very own wattle and daub wall. We loved working together and get muddy and wet, but we decided we wouldn't want to build a whole house using the Wattle and Daub technique as it would take forever!
Houses in 1666
This week we have worked very hard to create our very own houses like the ones that would have been on Pudding Lane. We added candles inside to make them look like they were on fire.
Great Fire of London
Today we worked in small groups to sequence the events that happened in 1666.
Design and Technology
This term we are learning to make a fire engine. We have done research into what fire engines need and have, we have looked at chassis, axels and wheels and tested them out to see which one will work and now we are design what we want our final piece to look like . . . Come back to the website soon to see our finished products.
Money, Money, Money
This week we have been using money in maths. We looked at all the different coins, matched coins to their amounts, and challenged ourselves to show amounts in as many ways as possible.
Construction Area
Today we used our imagination to turn the bricks in the construction area into a builder with a work bench. We left him stood in the construction area and he made everyone that visited the classroom smile :)
Remembrance Day
We have been spending some time this week thinking about all the brave men and women who have fought to keep us safe. We created poppies, and wreaths and designed medals for the brave soldiers.
Black History Month
This month we have been learning all about Mary Seacole. We found out that Mary Seacole was born in Kingston, Jamaica and travelled to Crimea to help take care of injured soldiers in the Crimean War. We discussed how brave Mary Seacole was. We created some portraits of Mary Seacole using oil pastels, wrote about her and even designed a medal for her.
Continuous Provision
Below are some photos of activities the children have had access to this term during continuous provision.
Rosary
This week we have worked very hard to create our very own Rosary beads. We learnt about all the different parts to Rosary beads. We used our Rosary beads and took part in our own Rosary group.
Families
In religion this term we have been looking at families and why they are so important to us. We spent some time meditating and saying prayers for the special people we have in our families.
Shapes
We have been looking at shapes in maths this week. We have spent lots of time taking part in a number activities, shape bingo, shape hunt, sorting shapes, making shapes from spaghetti, shape pictures and shape reasoning questions.
Here we are enjoying spending time doing lots of continuous provision activities.
Greater than, less than
Today we have been using our knowledge of numbers to find which numbers are greater than and which ones are less than a given amount.
Map Work
Today we had a go at creating our very own maps. We had lots of fun finding out where the maps would take us.
Seasons
This term in science we have been learning all about the different seasons. We went outside to collect leaves so we could have a look at how they have changed. We then used them to create some lovely art work.
Number Bonds
This week we have been looking at our Number Bonds to 10 then to 20.
Representing Numbers
Today we have been looking at representing numbers in as many ways as possible. We used the objects and equipment around us to represent numbers in different ways.
The Dot
This week we have been looking at the book The Dot by Peter H Reynolds. The book links to Growth Mindset and how we need to not give up when things get hard but to find another way to do something/ or see something and to keep going even when we find things difficult. We created some beautiful dotty artwork and created a display in the classroom so we can look at it and remind ourselves to not give up on our dreams!