Welcome to Saint Peter's Year 2
My name is Miss Bowers and I am the Year 2 teacher, our teaching assistant is Miss Heapy. We work together as a team to provide fun and engaging lessons, to make sure the day is as enjoyable as possible.
Please can we remind every body that we do not allow nut products in school. Please do not send your child to school with anything that contains nuts, this includes products that say 'May Contain Nuts'. Your child will not be able to eat any of these products on the school premises.
P.E - Year 2 will have P.E on a Wednesday and Friday.
Homework - Maths and Spelling booklets will continue to be given. The children will be given them on Monday and they should be returned on Friday. The children will also still have access to spelling shed and Numbots/ TT Rockstars and the occasional project on Purple Mash.
Reading Books - Reading books will be given to the children on a Monday and they will need to be returned on a Friday. Your child will not bring a reading record home but we will keep a record in school. Your child can use Oxford Owl if they would like to do some extra reading at their level.
Click: "My Class Login"
Class Username: year2stpeters
Class Password: Year2book
Take a look at Alfie's fantastic role-play of The Baptism of Jesus...
Christmas Orienteering
The children had so much fun orienteering. They used their maps to find 14 elves. Each elf gave them a letter that spelled out a special Christmas message. After a cold 90 minutes outside we warmed up with some hot chocolate!
Stable by Starlight
Despite the current restrictions, we have still kept the Year 2 tradition of performing the nativity. Year 2 have prepared a stunning virtual nativity. We hope you enjoy it.
Arrays
We have been using our maths resources to make arrays. Arrays help use understand the concept of multiplication and how solve it.
We have also used arrays to show that multiplication is commutative which means it can be done in any order!
Advent
We have used oil pastels to create beautiful advent wreath art work for our worship area.
Phonics Screening Checks
Miss Bowers would like to say a huge well done to the extremely hard working Year 2s who completed their phonics checks this week. The children read their words with confidence. They all received a special certificate congratulating them on their brilliant work.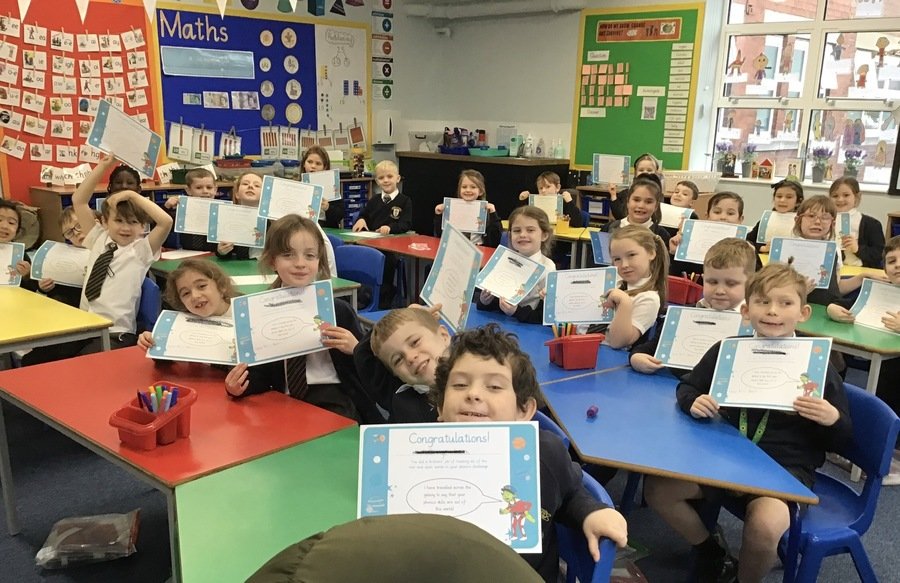 Making Amounts of Money
We have been learning about money. We have learnt how to make an amount of money in more than one way. We used our new skills to purchase a toy from the class toy shop. We had to pay for our toy in three different ways!
How do Germs Spread?
We carried out an investigation to find out how germs spread around our classroom. To do this, two people covered their hands in glitter, the glitter represented germs on their hands. The children then shook hands with everybody in the class and we played a game of catch using one ball. After that we used our observation skills to see if the glitter germs had spread around the class. We found that the glitter germs had spread to everybody in the class and the ball.

We then wanted to see if soap and water really does wash germs away. It was very easy to wash the glitter germs away by using a bit of soap and rinsing our hands with water.

We learnt that germs spread very easily and that it is extremely important to wash our hands regularly.
(Everybody washed their hands thoroughly before the experiment so that no real germs were spread!)
In November We Remember
November is the month of the Holy souls. During November we remember people who are now in heaven, including soldiers who have died during wars. We have drawn some beautiful poppies to put in our prayer table display.
During November we will think about those we love who are in heaven and we will think of them as we say the Eternal Rest prayer.
Eternal Rest grant unto them
O Lord,
and let perpetual light
shine upon them.
May they rest in peace.
Amen.
Autumn 1
Welcome back!
We are so happy to have all the children back at school and we are looking forward to the year ahead!
The children have been fabulous at coming back to school and settling down to new routines. We are very proud of them all.
Please keep coming back and visiting our class page to see what we have been up to in class.
Design and Technology
We are going to be building our own castles. To start this process we drew detailed drawings of a medieval castle using rulers. We then labelled the features of the castle. Some of us chose to cut out 2D shapes and assembled them together to create a castle. Miss Bowers was blown away with our amazing work!

We have now built our own castles. Please see photos of our work during this topic below.
Partitioning
This week we have been partitioning 2 digit numbers into tens and ones. We have used different concrete resources to help us learn.
Partitioning numbers is a very important skill and will help us solve different maths problems in the future.

Try to practice partitioning at home!
Click this link for an online game to help you practise partitioning numbers. You will need to practice numbers up to 99.
Space Week
4th-10th October marks International Space Week! We have been celebrating with people all over the world and finding out lots of fun facts about space! Have a look at what we have been up to...
Constellations
We learnt that the stars in the sky are grouped into different patterns called constellations. We learnt some very interesting facts about stars then we recreated the constellations outside with our partners.
Next time there is a clear night, take a look outside and see if you can spot any of the constellations!
Launching Rockets
We discovered that to launch a rocket you need fuel and oxygen that burns to make a force. We conducted our own safe science experiment to create a force that would launch our rockets into the air!
Ordering the Planets
We have created some beautiful art work to help us remember the order of the planets from the sun. We are going to add labels to each planet but we couldn't wait to show you our work!
Miss Bowers was so impressed with how well we could remember the order.
The Rosary
October is the month of The Rosary. Year 2 have been learning how to use Rosary beads and the prayers we say. Every Friday during October we will have a Rosary service in class. The children have been thinking about what we should pray for. The prayers we say are Our Father, Hail Mary and Glory Be.
Spelling Shed
Top speller this week is...
NOAH
Well done! Keep up the excellent work!
Phonics Resources
Please find some useful resources to support your child's phonics below. These resources can be used to support reading and writing.
Useful Links
English
Maths
Daily 10 Times Table Challenge
SATs
Other