Welcome to Saint Peter's Year 2
My name is Miss Bowers and I am the Year 2 teacher, our teaching assistant is and Miss Heapy. We work together as a team to provide fun and engaging lessons, to make sure the day is as enjoyable as possible.
Just a reminder on some dates for your diary:
Reading books are changed each day, your child has a specific day to change their book but they are welcome to change their book on a different day if necessary. Please ensure you read with your child each night and make note of this in their reading record book.
Homework is given every Friday and is returned the following Wednesday.
The children will have P.E on Wednesdays and Fridays. Please remember that children should also have the school track suit as well as their shorts and t-shirts, these will be required in the weeks to come as the temperature starts to drop.
Please could I also remind you to check your child has their names in all items of clothing to make sure they get back to their rightful owner if misplaced or found.
Please keep an eye of this page for more information about what we have been up to and to have a sneak peek at any photos we have taken along our learning journey this year. Please also find below the end of year expectations for Year 2 children.
| Name | |
| --- | --- |
| Autumn A - Castles - PLANNING FOR PARENTS.docx | Download |
| Autumn B - Africa - PLANNING FOR PARENTS.doc | Download |
| Spring A - FunnyBones - PLANNING FOR PARENTS .docx | Download |
| Spring B - Explorers - PARENT PLANNER.docx | Download |
| Summer A - Wind in the Willows - PARENT PLANNER.docx | Download |
Showing 1-5 of 5
The Wildlife Trust - School Trip
We had a great day exploring the habitats we have been learning about. We explored a pond, river and grassland habitat. We found lots of different creatures.
A Walk in Our Local Area
In Geography we have been looking human and physical geographical features. Today we went on a walk around our local area to see what features we could find. We were experts at spotting the features on our checklist and even identified different features that were not on our checklist! We will be writing recounts about the walk very soon and making sure we're refer to the human and physical features we saw.
British Wildlife
Our topic this half term is 'Wind in the Willows'. We will be looking at animals and their habitats, particularly animals that are part of the British wildlife.
In English we will be writing an information text about a British wild animal, so today we used our new class iPads to research about a chosen animal. We even had a visit from an animal that lives in the wild!
Genius Geographers
Today we learnt how to use an atlas. We were looking at cities, towns, rivers and mountains in the United Kingdom. We learnt how to use the index page and we were able to find all of the UK locations on our list! Miss Bowers was very impressed with us.
Easter Egg Hunt
Today was the last day of the Spring term. The children have worked very hard over the term and deserved a little treat. The Easter bunny came early and scattered some Easter eggs all over the playground! The children worked together to find all of the eggs.
Explorers Day!
We have had a great day celebrating Explorers Day! We have made a spaceman's lunchbox, built a rocket and had a debate about who was the better explorer, Columbus or Armstrong!
Position and Direction
We have been learning about position and direction. We have learnt what the terms anti-clockwise and clockwise mean and what full, quarter and three quarter turns are.
We practised using these positions and directions by instructing our friends how to get a special treat.
Mother's Day
For Mother's Day we worked very hard to create clay pots. We designed one and then used different tools and techniques to form the pot out of clay. We then thought about the colours our Mums like and added them to our pots using paint.
The Human Body
Today we identified the different parts of the human body. We also discussed the importance and purpose of each part.
World Book Day
We have had a very exciting day celebrating World Book Day! Here are some of the exciting things we have done...
Making Potions
The book we are currently reading in our English lessons is 'Man on the Moon' by Simon Bartram. It is all about a man called Bob who has to go to moon everyday to clean it and keep it in perfect condition. Bob is unaware that some naughty aliens are up to no good. They are always hiding from Bob so he never catches them!
In Maths the children have been learning how to measure capacity. Today we used these skills to follow a recipe and make an invisibility potion for Bob. If the aliens can't see Bob then they won't be able to hide!
Hot chocolate, a Friend and a Book
In Year 2B we love reading for pleasure. Today we made reading for pleasure extra special by choosing a friend to read with. We chose a book together, found a comfy spot in the classroom and enjoyed a story together with a hot chocolate and a biscuit.
Fancy Dress and Book in a Box
Thankyou to all parents for all the effort you put into your child's costumes. They all looked great and loved wearing them!
We also had some fantastic creations for the 'Book in a Box' competition! Well done to everyone who participated.
What Does Sugar do to Our Teeth?
In Year 2B we love science, especially when we get to carry out investigations as we get to find answers out for ourselves!
Our topic is 'Growth and Survival'. We have been finding out how we can stay healthy, to help us grow and survive. We wanted to find out what can happen to our teeth if we have too much sugar. We investigated this by choosing different drinks that contained different amounts of sugar. We then put an egg in each cup. We also discussed how to make it a fair test.
Over the following week we observed what happened to the shell of the eggs, whatever happened to the egg would happen to our teeth! The drinks that we discovered were bad for our teeth were fresh orange juice, coke and Lucozade. The drinks that don't effect our teeth are water and milk!
Man on the Moon
We have been gathering clues about a character. We have been trying to find out what his job is, we did this by looking at objects inside his house. Later in the week, we received a special delivery. It was a beautiful book called 'Man on The Moon' by Simon Bartram.
We were so excited when we saw the envelope and couldn't wait to see what was inside. The book gave us a lot more information about Bob and now we know all about his special job!
Find Your Fraction Friend
We have been learning all about fractions of shape. Today we had to find somebody who had the matching fraction or shape to ours.
Andy Warhol - Repeated Prints
We looked at work from the artist Andy Warhol. We discussed some of his artwork and how he created artwork based on everyday objects and how he created repeated prints in different colours.
We studied the 'Campbell's Soup Tin' designed by Andy Warhol. We practiced sketching the tin in our sketchbooks before engraving the same image onto a polystyrene tile. We had to ensure we mirrored the writing so that it transferred correctly when we printed it. We used rollers to apply the paint to the tile and then used printing techniques to recreate artwork inspired by Andy Warhol.
Funnybones Paintings
Our current topic is 'Funnybones'. We have been doing lots of work across all of our subjects, in Maths we have been learning about 2D and 3D shapes. When we looked closely at the illustrations in Funnybones. We noticed that the illustrator, Janet Ahlberg, uses 2D shapes to create buildings and landscapes. We have recreated the illustrations by sketching and painting.
Building 3D Shapes
We have been learning about 3D shapes and their properties. After exploring all the properties of 3D shapes, we used our knowledge to build the 3D shapes ourselves! We worked with a partner and were having very detailed conversations, that involved lots of mathematical vocabulary, about how our shapes should look.
Football Tournament
Well done to our two children who joined children from 2L to compete in a football tournament. All of the children played extremely well and won their round of the tournament!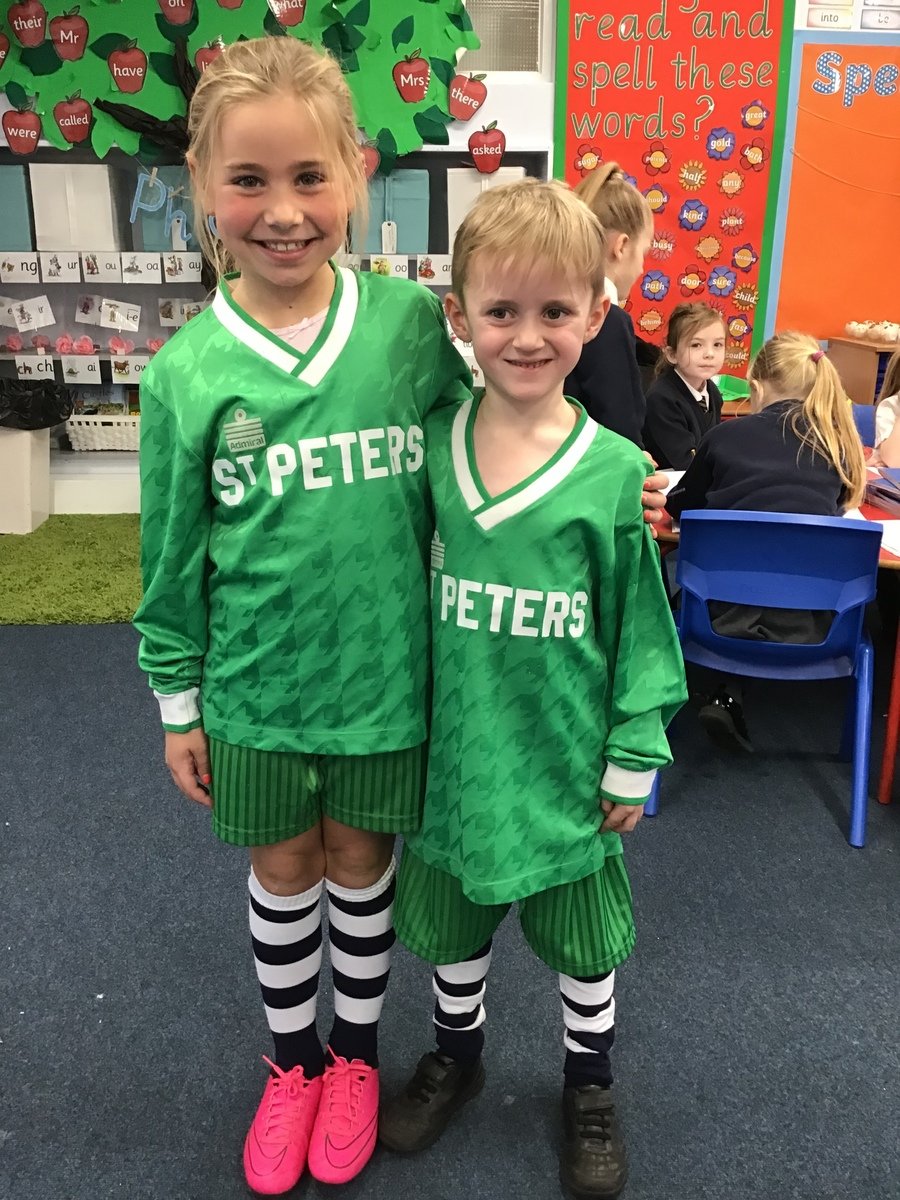 2D Shape Monsters
We have been learning about 2D shapes and their properties. We have made our own Shape Monsters and identified all the shapes that we used!
African Jewellery
We have been looking at clothes and jewellery made and worn by people in the Massai tribe in Kenya. We noticed that they often use bright colours and distinctive patterns. This is inspired us to design and make our own necklaces!
Christmas Cards
Our beautiful Christmas cards were created by using oil pastels for the background and black card to make a silhouette of the nativity scene. We put lots of effort into them and can't wait to give them to our loved ones this Christmas!
The Inn-Spectors
Well done to all of the Year 2 children who performed in this year's nativity! You all worked so hard and put on a great show and reminded everyone about the true meaning of Christmas.
Judaism
In Year 2B we have been learning about Judaism. We have learnt that on Saturday, Jewish people celebrate The Shabbat. During Shabbat, Jewish people eat a special bread called Challah bread and lots of other delicious foods and drinks.
Today we made our own Challah bread and also tried a real loaf from a local Jewish bakery! We had lots of fun and worked very hard. Take a look at what we got up to...
Preparing the Challah Bread...
Our Baked Challah Bread...
Tasting the Challah Bread...
Medieval Banquet
After working so hard in our first topic of the year 'Castles', we ended the topic by having a medieval banquet. We ate lots of tasty medieval food and even did some medieval dancing! We had a fantastic time. Take a look at what we got up to...
Mathematicians
So far, Year 2B have been adapting to the trickier Year 2 Math's work very well! We have been learning how to partition 2 digit numbers into tens and ones using equipment to help us. We have even started to add 2 digit numbers together!