YEAR 4C
ST JOSEPHINE BAKHITA
Hello and welcome to Year 4C class page!
My name is Mrs Clinch and I am one of the Year 4 class teachers for this year! We are extremely lucky to have Mrs Moore in our class with us as our teaching assistant!
Throughout this page, we will keep you updated on everything we get up to in class and what our expectations are for the year ahead!
If you ever have any questions or queries, please don't hesitate to send in a note or phone up the office and I will call you back. Alternatively please email
Year4C@stpetersrc.rochdale.sch.uk
I will do my best to get back to you as soon as possible.
Please can we remind you that we are a nut free school. Please do NOT send your child to school with anything that contains nuts, This includes products that say, 'May Contain Nuts'. Your child will not be able to eat any of these products on the school premises.
Mrs Clinch
Key Information
Please send your child to school every day with a water bottle.
Homework will be given out on a Monday. We expect children to access TTRS and spelling shed for at least 10 minutes on each night. Spelling tests will be given on a Friday.

Reading books will be given out each week on a Monday and we ask you to return them on a Friday.
The returned reading books will be kept in 'class quarantine areas' for 72 hours before being given out again, to help minimise any possible virus transmission.
Please only send your child's reading packet to school on a Monday and a Friday.
Children should read every night (even if it is one page).
PE lessons are on Friday afternoon. Due to the current situation, PE sessions will be taken outside. Please ensure that your child has the appropriate clothing in their PE Bag - Tracksuit bottoms and a jumper. Mr Lord has also asked for the children to have a spare pair of socks in their PE kit bag. The children will also need to be sent into school with a warm coat, with a hood.
Summer 2
Please click the link below for this half term's curriculum newsletter.
Summer 1
Welcome back. I hope you have had a lovely Easter break. Below is the curriculum planner for this half term.
The children have done an amazing job designing and making Tudor houses. They did lots of research first about the features of a Tudor house and then they drew their plans and collected resources they would need.
There was a lot of work involving painting, cutting, measuring and adding finishing touches. We are very happy with the results!
This week we have been learning about rivers. We have been finding out about the parts of a river and how it travels. We watched lots of videos about river formation and learned lots of new vocabulary. We then worked in groups/pairs to create a picture depicting the parts of a river.
We found out about the War of the Roses and then we learned about the Tudor rose. We made tissue paper roses and then we made clay Tudor roses.
I am sure you will agree we did a good job!
This week we have been learning about the Tudors and how to read and understand a family tree. We have been finding out who people were married to, how many children they had and how long they lived. After learning about the main Tudors we created Tudor portraits. We talked about the importance of portraits as an important source of historical information and studied the work of Hans Holbein.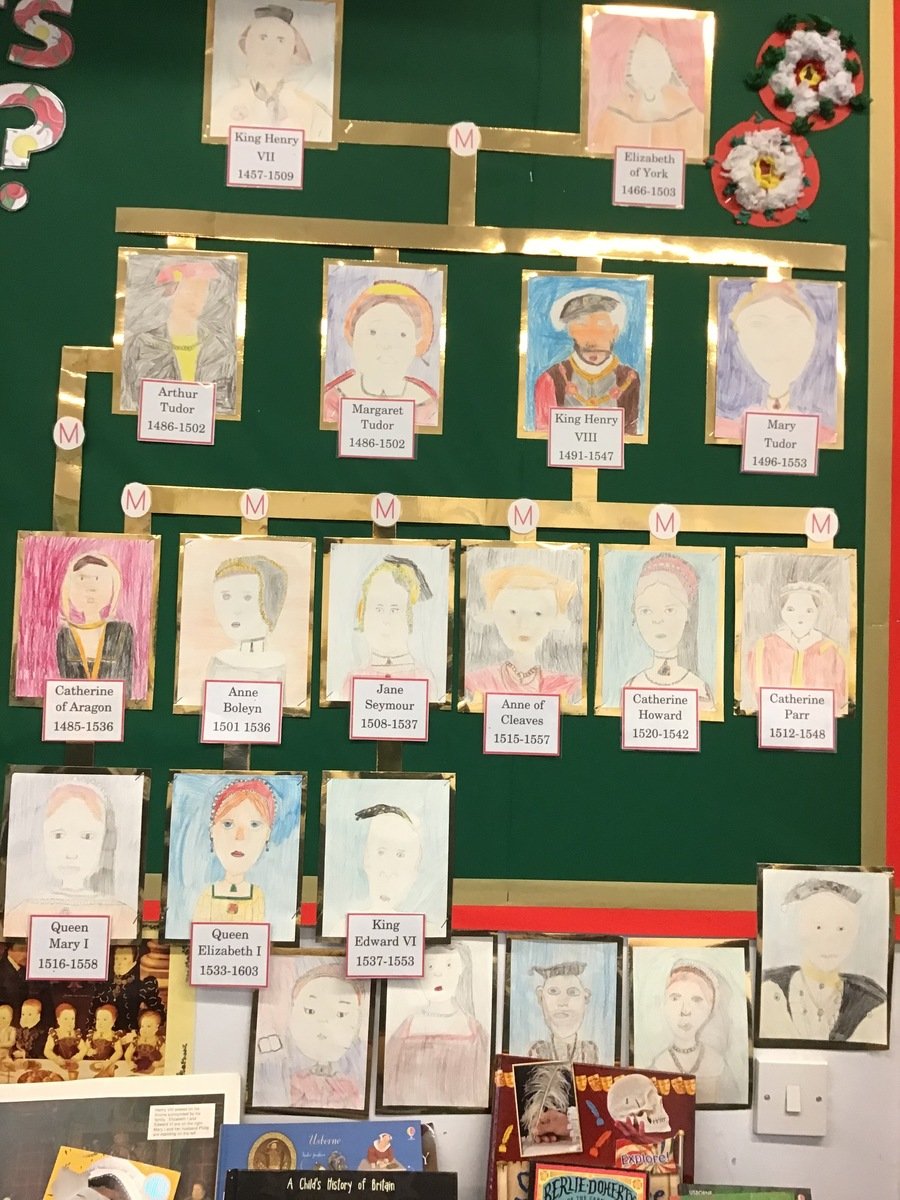 What a fantastic first term we have had together despite the circumstances. We have learned so much and had such a great time together.
Our final week before Christmas was so lovely. We enjoyed watching a Christmas pantomine, had a great party day and did lots of Christmas activities. We enjoyed playing games together and we even learned to sew!!!
Mrs Moore and I would like to thank you all for your support and the lovely Christmas gifts you gave us. We are very grateful to you all.
Let's hope that 2021 is better than 2020!
Science - Conductors and Insulators
In our science lesson today we have been making circuits using wires, a battery and a bulb. We have been investigating different materials to see if they are conductors or insulators ( if they make the bulb light up).
We are very proud of Callum who has decided that he would like to support the Lighthouse project this year. He has written a letter to Mrs Kelleher asking her to support the charity so we are having a Non-Uniform day on Friday.
He went to the Lighthouse project in Middleton and made this video. Click on the link below to find out more.
We are starting to get ready for Advent. We are painting a picture for the school entrance. Look out for our work.
What a busy week!
This week we have been learning about Egyptian mummies. We learned about how this was done and we mummified an apple. We have made our own sarcophaguses and made a mummy to go inside. Just for fun we had races to see who could turn their friend into a mummy. I think we need a bit more practice!!
As well as learning about mummies, we have been designing and making circuit games in DT. Our games have questions on them and the correct answers are connected with wire. When a correct answer is chosen the lightbulb lights up.
Circuits
The children have been making electrical circuits using wires, batteries, bulbs and motors.
Design Technology
Today we went outside to build our Egyptian Shadufs. We gathered all the materials we needed in the school grounds and then we worked in groups to build it. We had to make lots of adjustments to make it balanced and we had to persevere when we had a problem.
We did a great job and all of our shadufs could take water from the water bowl.
Armistice day
Today we spent the day learning about Armistice day. We began the day with an assembly all about Remembrance. We then completed a reading comprehension about War and then we read the poem "In Flander's Field"
We performed the poem and analysed the features of it. We then went on to create pictures from the war and we then placed our poems over the top of our pictures.
We were very respectful when doing our 2 minutes silence and all agreed how we should all remember the sacrifice of those who have died or been injured for our freedom.
Egyptians
Today we have been learning about Egyptian Shadufs. We found out why they were important for farming in Ancient Egypt. We looked at how they were made and then created a prototype in readiness for making a large one outside next week.
Autumn 1
Well what a great first half term we have had!
We have been so busy in class. We have been learning to write using the Jane Considine "Write stuff" approach. Initially we found it quite demanding but now we are using much better vocabulary and writing more interesting sentences. We have been reading and enjoying Roald Dahl's BFG and in Religion we have studied the family tree of Jesus. We have learned all about St Josephine Bakhita.
In Maths we have covered place value and addition and subtraction of 4 digit numbers and in topic work we have been studying ancient Egypt. We have made clay models and printed using heiroglphics. We have carried out research on Egypt and made our own papyrus paper and used it to create maps of Egypt.
We have worked really hard and have earned a good half term rest.