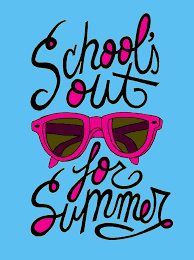 We made it Year 4!
The summer holidays are finally here. Time to rest and recuperate.
During our End of Term Zoom this morning, we can have a chat about our plans for the summer holidays, maybe some of you are looking forward to going on holiday, going on day trips or just looking forward to spending time at home with your family and your toys/games?
You all deserve a long and happy summer after how hard you've worked this last year! Enjoy every minute of it and I look forward to seeing you all around school in September.
Love always,
Mrs Jones
Thursday, 15th July, 2021
Hello everyone,
Can you believe it is the last day of term tomorrow?! Where has this year gone?
I hope you are all ok and are enjoying spending time with your families! Here are some tasks to keep you busy-
Task 1- Guided Reading set on Purple Mash (The Ice Cream Villain Chapter 3)
Task 2- Writing- A diary entry linked to Chapter 3 of the above book.
Task 3- Maths- Revision of the three types of angles.
This afternoon we would have had free time watching a movie, playing games and drawing and so why not do these activities at home with your loved ones?!
Here is the link to the Draw with Rob Youtube videos we sometimes watch in class-
https://www.youtube.com/watch?v=-4SAKZBh2xg
Have a lovely day boys and girls,
Mrs Jones x
Wednesday, 14th July, 2021
Good morning Year 4.
Thank you to everyone who submitted work yesterday, I am really proud of you. The '2Dos' on Purple Mash don't have 'end dates' and so you can submit them anytime.
Today I have set tasks again on Purple Mash, this will be the easiest platform to upload work on as I know so many struggled with the Oak Academy tasks during Lockdown before. For those of you whom would like more challenging work then you can find the Oak Academy work for English, Maths and most other subjects by following this link-
https://www.thenational.academy/
Task 1- I have set Chapter 2 of The Ice Cream Villain for you today.
Task 2- Linked to The Ice Cream Villain, I have set a newspaper report task for you to have a go at. You were amazing at writing newspaper reports based on The Creature in class!
Task 3- Following on from yesterday's 2D task, I have set you a 3D shape task on Purple Mash.
Task 4- This afternoon would have been our Sports Day activity afternoon and so, why not grab a ball or other sporting equipment and play in your back gardens. If you have siblings with you, you could set up mini races with them! I would love to see photos of you completing these activities and I bet Mr Lord would too!
Here are some suggested activities for you to try-
Egg and spoon race.

Wheelbarrow race.

Hula hoop challenges.

Space hopper race.

Relay race.

Balloon games.

Bean bag throwing competition (using rice in a zip-lock bag)

Football dribbling race (timed if alone)
If you are unable to go outside, maybe you could research an inspiring sports man or woman. I have been blown away this past few months by the determination shown by our England football players- maybe you could write a fact file on Marcus Rashford or Harry Kane?
Have a lovely day boys and girls!
Mrs Jones x
Tuesday, 13th July, 2021
Good morning boys and girls.
Argh what a sad day it was yesterday. First of all, because we heard the news that one of our friends had tested positive for Covid (get better soon sweetheart) and secondly because we now need to isolate. As a school we do everything we can in order to keep you and your families safe and although it is heart breaking- it is what Public Health have instructed us to do. It is not the end of term we had planned but hopefully we can stay safe and from next week, enjoy our summer.
I will set tasks each day on here and on Purple Mash. These tasks will keep you occupied whilst your parents try to balance their busy lives. Please try to have a go at them and either send work to me via our email address- year4j@stpetersrc.rochdale.sch.uk or submit the work via Purple Mash.
I miss you all already!
Have a lovely day,
Mrs Jones
Task 1- Reading
This is set on Purple Mash. Please read the text and answer the comprehension questions.
Task 2- Maths
This week we will recap 2D shapes, 3D shapes and angles. Today's task is set on Purple Mash.
Task 3- Writing
On Purple Mash, please compose an email to your new teacher to tell them the important things you want them to know about you. You won't be able to send them directly to your new teacher and so send them to me and I'll forward them on. You could tell them your interests, your favourite subjects and also, the things you may be worried about leading up to the autumn term. This task will help with transition and help your new teachers get to know you a little bit.
Task 4 - ICT
Complete your animation based on The Creature which we started in class.
Welcome to Year 4
My name is Mrs Jones and I am the Year 4J class teacher for this academic year. We are very lucky to have Miss Evans as our class teaching assistant whom lots of you know from Year 3.
We fully understand that the children have been out of school for many months and may be reluctant to return. However, we will be here to try and make the transition from Year 3 to Year 4 a smooth and happy one.
We are both looking forward to getting to know your child over the course of the year.
If you do need to speak to me before term starts then you can email year4@stpetersrc.rochdale.sch.uk and I will try to help the best I can.
Please can we remind you that we are a nut free school. Please do NOT send your child to school with anything that contains nuts, This includes products that say, 'May Contain Nuts'. Your child will not be able to eat any of these products on the school premises.
Mrs Jones & Miss Evans
Key Information
Please send your child to school every day with a water bottle.
Homework will be given out on a Monday and handed in on a Friday. Spelling tests will be given on a Friday.

Reading books will be given out each week on a Monday and we ask you to return them on a Friday. We will not be issuing Reading record books to any children but staff will keep a record of the books read by your child. You may also like to do this at home.
The returned reading books will be kept in 'class quarantine areas' for 72 hours before being given out again, to help minimise any possible virus transmission.
Please only send your child's reading packet to school on a Monday and a Friday.
Children should read every night (even if it is one page).
If your child needs additional reading material then
Oxford Owl is a fantastic site, on which you can access lots of reading books, just like the ones we send home from school. They are all colour banded, just like the ones we have in school, so the children will be familiar with them.
Click: "My Class Login"
Class Username: class4jones
Class Password: Bernadette
Science
In science this half term, we have been learning about how states of matter change and the conditions needed for change to occur. We have been experimenting with Solids, Liquids and Gases and learning about evaporation, condensation and precipitation. This week, we learned all about the Water Cycle and have set up an investigation using a sealable bag. Ask your children all about it!
PE
In PE, Mr Lord has been teaching the children tennis, cricket and hockey.
Treat Time
For getting 10 silver rings in the reward jar, the children enjoyed an hours free time. They chose to play football on the field, to roll down the hills and some of them even decided to litter pick! Well done Year 4!
Maths
This half term we have been learning about division, fractions and decimals. We used practical equipment to help us find fractions of larger numbers.
The children have done incredibly well this half term and have worked so hard to cover, not only the Year 4 objectives linked to Fractions and Decimals, but the Year 3 objectives too!
RE
This term we have been learning about Jesus' death and resurrection, the Stations of the Cross helped the children to understand part of what Jesus would have gone through during his last hours on Earth. The children behaved with reverence and respect and it was a beautiful service.
This half term we have looked at how we can build bridges back to God through acts of penance and this week we've learned about the Ascension of Jesus into Heaven and Pentecost.
We have had such a busy half term! We have achieved so much together! You should all be very proud of yourselves! Have a look below at what we've been up to-
In Maths, we have been learning all about Measure. Our focus was to convert mm to cm. cm to m and m to km. We measured a variety of objects to remind ourselves of the differences between each unit of measure.
We have also been learning our timestables, Please encourage and support your children with accessing TT Rockstars for 15 minutes each evening. It really will make a difference to their recalling skills!
For Remembrance Day we looked at the words of the poignant poem In Flanders's Field and created art work using silhouettes.
Following on from the prototypes, we went out into the woods and gathered resources to help us make real, working Shadufs. We all had so much fun!
Prototypes of Egyptian Shadufs
This afternoon we made prototypes of Shadufs. A shaduf is a hand-operated device for lifting water, invented in ancient times and still used in India, Egypt, and some other countries to irrigate land. Typically it consists of a long, tapering, nearly horizontal pole mounted like a seesaw. We used straws, blu-tac and cupcake cases to experiment with the mechanics. Next week, we will be making larger shadufs and testing their ability to hold water.
Class 4J demonstrated excellent team work and perseverance this afternoon. I was really proud of them!
Our Gallery
As well as the wonderful work I have been sent through by your parents (thank you!) I have also been sent photos of the other 'learning' you have been doing! Have a look below at our class gallery.
Tuesday 2nd March- RE
Here is an amazing example of the 'Charter To Live By' task that was set in RE. Harry B has done a beautiful job of writing a set of guidelines we can all use in order to live as God intended. Well done Harry!
Tuesday, 2nd March- Maths
Maths is particularly hard to set out this week if you don't have a printer- here is a picture of Jessica's work so you can see how it can be done.
Well done Jess, your presentation is beautiful!
Friday 26th February
As we all know, 'giving' is an important thing to do all year round, but during Lent it is something us Christians try to do more of. Our Alfie and his little brother Oliver have been raising money for various charities during lockdown. This week, the boys have been raising money for the 'Make a Wish Foundation'. This charity supports children with terminal illnesses. The boys have been washing, drying and folding clothes in order to raise money- I think this act of kindness is another example of just how much the boys have 'given' recently and I am so proud of them. Well done boys, let me know how much you have raised in total and I will add the total here.
Maths-
Jessica constructed these 3D shapes using straws and blue-tac. Well done Jess! By making your own models of 3D shapes you will be able to see the vertices clearer, the edges (which are often the trickiest to count) and you can also see the shape of the individual faces.
Our Harry made a very impressive Tetrakis Hexahedron. It's has 24 faces, 36 edges and 14 vertices. He used Geomag sticks! What an amazing shape!
Here is Alfie and his brother Oliver being absolutely amazing! They have raised £115 for The Ronald McDonald House at Alder Hey Hospital. They have baked and sold cakes to help this wonderful charity! What special boys you are! We are very proud of you!
A massive Happy Birthday to our lovely Emmie. Here she is having chocolate smothered waffles to celebrate! They look delicious! I hope you had a wonderful day!
Alfie made these gorgeous looking cakes on Friday! I'm in school with you on the first Monday after half term Alfie (wink wink!)
Another act of kindness by another child in our class.
Here is Alfie and his brother Oliver. They are completing different challenges at home and, instead of getting spending money, they are donating money to local charities. This week, the boys took part in a running competition and donated the money earned to The Royal Manchester Children's Hospital Genetics Trust (Gem Appeal). This is a charity that is close to the boys heart as the hospital treated their cousin Ruby.
Well done boys. You are inspirational. Let us know what your next challenge is!
World Read Aloud Day 2021
To celebrate this event, in school we read 100 Steps by Captain Tom Moore. Here is Lucas and Freya enjoying a story together too.
In RE today, we have been learning about giving and receiving. We all know it is lovely to receive things like presents and treats but we agreed in class that we feel joy and happiness when we give too.
Recently, our Harry saw a photograph of a poor little boy, in Africa, who was so desperate for a football shirt that he drew one on his bare chest and back. He wanted to represent his favourite team and player. Harry was so moved by this that he went to collect old football kits from his wardrobe that he no longer needed. Harry loved these kits and was collecting them but he decided to donate them to children like the boy in the image. What a beautiful and kind act! I am so proud of you Harry!
Harry and his family donated the kits through a charity called KitAid
Snow Fun
Here is our Lucas sledging with his little sister Freya. I hope you had lots of fun!
The Big Bird Watch
Wow boys and girls! I have received some lovely photos of you making bird feeders, observing the skies and making bird fact files. I have added some photos below but will add more when I receive them! As Eco Council Leader it makes me so happy to see you all welcoming birds and wildlife into your gardens! Keep up the amazing work!
Here is our Bobby (and his little brother Charlie). They went on an historical walk around Middleton learning all about the history of St Leonard's Church. Bobby learned that the church is just over 600 years old and had extra work done on it by a man called Richard Assheton, which is the same name as the local Public House in the centre of Middleton. Then, they had a well deserved dinner of fish & chips!
I hope you enjoyed your day boys...and your sledging!
Here is our Alfie. He's been very busy this week writing letters to his loved ones, shopping for his vulnerable neighbours and helping his parents at home! Well done Alfie. I am very proud of you!
Here is our Jessica with a snowman she had built. Let's hope for more snow soon. Thank you sharing this Jess!
Here is Alfie and his brother Oliver looking after our local environment by picking up litter. What a kind and thoughtful thing to do! Thank you boys!
Here is Oliver's beautiful new puppy Bruno! He is looks adorable! Thank you for sharing this photo with us.
I have more beautiful art work from some of you today, here are Harry B's and Jessica's winter pictures. They are excellent.
Look at this beautiful tree that Harry B painted on Friday! I can see a variety of line types that you have used. I love the snow detail too and the colours used! Well done Harry!
Below is Lucas' 'Happiness' poem for you all to enjoy.
Well done Lucas!
Below are three lovely poems linked to our PSHE and English task today. Thank you Jamie, Niamh and Lincoln for your inspiring poems. I will be adding more throughout the day!
Look at this beautiful winter tree that Jamie has drawn! I love it Jamie, well done!
Here are Alfie and his brother Daniel doing their tree art work. Well done boys!
Thank you for all of the work you have submitted over the last couple of days. You should be very proud of yourselves.
Below are two examples of the RE assessment which are I hope will inspire you if you haven't yet done yours. Thank you to Jessica and Harry B for submitting this work for us all to see.
WC 6th January 2021
Well done to everyone who completed the assignment on Spelling Shed today. It expires on Sunday so try to do it before then if you haven't.
A massive well done to Harry A who is in the Top 20 in the whole school and at the top of our class leader board! You are a superstar!
WC 6th January 2021
Harry A, deservedly you are still at the top of our class leader board again this week and 5th in the whole school! Well done!
Well done also to Emmie, Jamie, Niamh, Lucas and Bobby who all went on TTRS today.
Bobby- you played for 18 minutes!!! Well done!