UPDATE ON CROSS COUNTRY
Years 5 & 6 will race on Tuesday 1st November at Elmwood School.


Years 2 3 & 4 will race on Thursday 4th November at Parish School.
CROSS COUNTRY INFORMATION
September 2022
This year the Middleton Primary Schools Association will have several race meetings each based at different primary schools across Middleton. The Cross country league is run over 10 evenings throughout the Autumn term. We hold 2 events per week:
Year 2 run 400m, Years 3&4 run 800m, Years 5&6 run 1200m. girls and boys from the same year will race together. The school with the lowest number of event points will be awarded 12 league points, second highest 11 league points, then 10,9,8,7 etc...
Total league points will be divided by events attended to give each school an average league point score. We will present a trophy to the best school in EACH of the 5 Year groups, as well as the overall school winners. Schools must enter at least 3 of the 5 rounds to qualify for trophies.


Round 1 Tuesday 27th September Y2 Y3 Y4 at Hollin School
Wednesday 28th September Y5 Y6 at St Michaels School
Round 2 Tuesday 4th October Y2 y3 Y4 at Little Heaton School
Thursday 6th October y5 y6 At St Peters school
Round 3 Monday 17th October Y2 Y3 Y4 at St Gabriel's School
Thursday 20th October Y5 Y6 at Alkrington Primary school
Round 4 Tuesday 1st November Y2 Y3 Y4 at Elmwood School
Thursday 3rd November Y5 Y6 at Parish school
Round 5 Monday 14th November Y2 Y3 Y4 at Parkfield School
Wednesday 16th November Y5 Y6 at St Thomas More school
Mr Lord has provided the children with links to online P.E lessons and workouts!
Premier League Primary Stars
Primary stars came in to support our Sports teaching. Here are the children receiving their certificates. Well done children!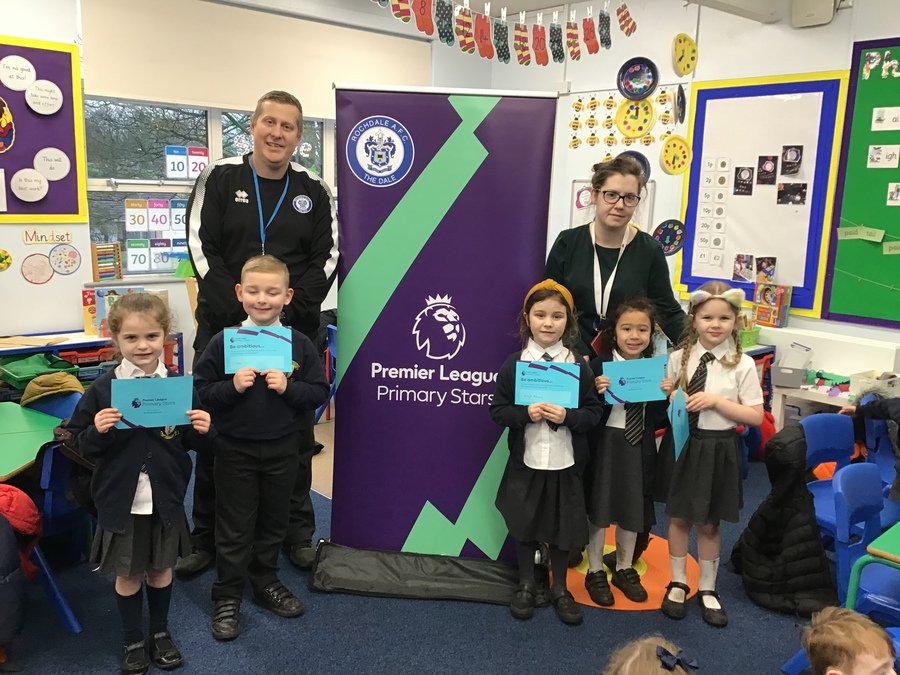 Throwing skills
Year 1 have been working very hard to improve their throwing and catching skills.
Basketball


Year 4 have been learning the skills and techniques of basketball.